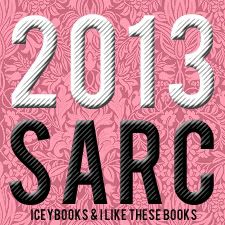 It's that time again! Time for the 2013 Standalone Reading Challenge!
I participated in this last year and, although I succeeded, I really didn't get the full experience since I was too busy to really track things. So, this year I'm determined to not only read the books but also to track them every month!
The Goal:
Read 15 standalone books that are published between January 1, 2013 and December 31, 2013.
**********
Next up I'll be participating in the 2013 Audio Book Challenge!
I was a part of this one this year too, but it took me a while to really get started. in 2013 I'm all about trying to do an audio book a month. It's a great way to pass time when I can't read an actual book :).
The Goal:
Going Steady - Listen to 12 Audio Books
***********
Lastly it's all about the 2013 TBR Pile Reading Challenge!
This year I had the hardest time resisting the gorgeously shiny new books that came my way. However I did miss a lot of what I wanted to read. In 2013 I can't wait to catch up on what I missed!
The Goal:
21-30 Books: A Sweet Kiss
***********
I'll have official pages for each of these linked up in the navigation bar above. I should have those set up within the next few days. 2013 is going to be an amazing reading year! I can taste it already.
If you'd like to participate in any of these challenges, just click on the button that corresponds!